Bermaq® proudly presents the new revolutionary "SPT" tool – Smart Polishing Tool – for acrylic & plastic polishing.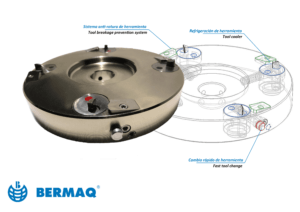 After deep investigations and always aiming at offering our customers with the best, BERMAQ® introduces BERMAQ® SPT newest tool, ahead of times, with an innovative, fast and safe diamond tool change.
It has been developed thanks to our extensive experience of over 30 years in the manufacturing of polishers and being pioneers worldwide, the BERMAQ® SPT tool is patented.
Highlights :
We have made it easy on the end-user. By means of a simple push, tools can be easily replaced without the need of a key or other accessories. Automatic safety lock indicator included.
It is equipped with a tool breakage prevention system that protects the diamond tool from possible improper use, while improving its productions costs.
A cooling system directly applied to the tool cutter is also provided.
We manufacture our own tools and offer a 24-hour turnaround sharpening service, both on Bermaq® tools and those of other manufacturers.
BERMAQ® leading the way to acrylic polishing.
For further information: bermaq@bermaq.com
Ph.: +34 93 823 1060
https://www.bermaq.com/wp-content/uploads/2018/05/General_tiny80.png
622
1216
Teresa
https://www.bermaq.com/wp-content/uploads/2020/07/LOGO-BERMAQ-WEB-300x107.png
Teresa
2018-05-11 11:01:11
2018-05-14 08:23:39
BERMAQ® "SPT" SMART POLISHING TOOL